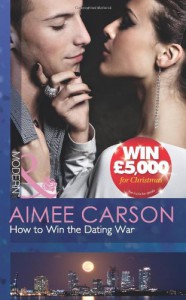 Rating 3.5
I like this author's voice quite a bit. Both the hero and heroine were pretty messed up. He was a top race car driver who had a crash a few months ago that ended his career and he has no memory of it. I had a problem with the heroine because at least the hero knew where his issues came from, his father's abandonment and mother's disregard and he acknowledged them.
The heroine is a divorcee and runs an online dating business and ropes in the hero for a good cause. She still despite her parent's divorce and her's is on the quest for the perfect man and she could be annoying with this belief that she knew best. She was a do gooder, with her self help books and divorce support groups and telling the hero that he had problems when she had not even confronted her own. I liked it when the hero told her the reason she never found the perfect guy was because he didn't exist and that the reason she was messed up was because of her parent's divorce and that she should look closer to why her marriage failed.
There was plenty of banter and sexual tension between these two and I enjoyed the book and really liked the hero.